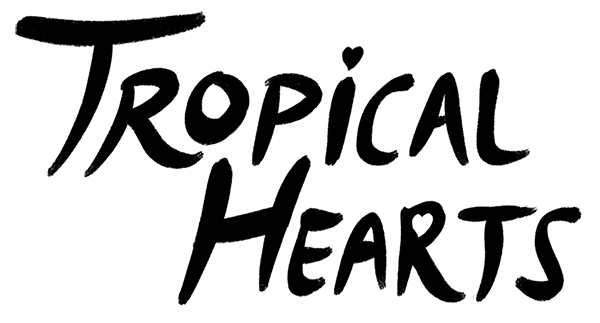 ---
ABOUT THE GAME
Tropical Hearts is a turn-based RPG & visual novel by KokoLori Studios.Five close-knit friends go on a well deserved vacation. When they're offered a luxurious stay at Paradise Island, they've no idea what's awaiting them! Involved in a battle against mysterious, otherworldly creatures, our heroes unlock their magical potential - and the road to each other's hearts!Tropical Hearts is now on Steam!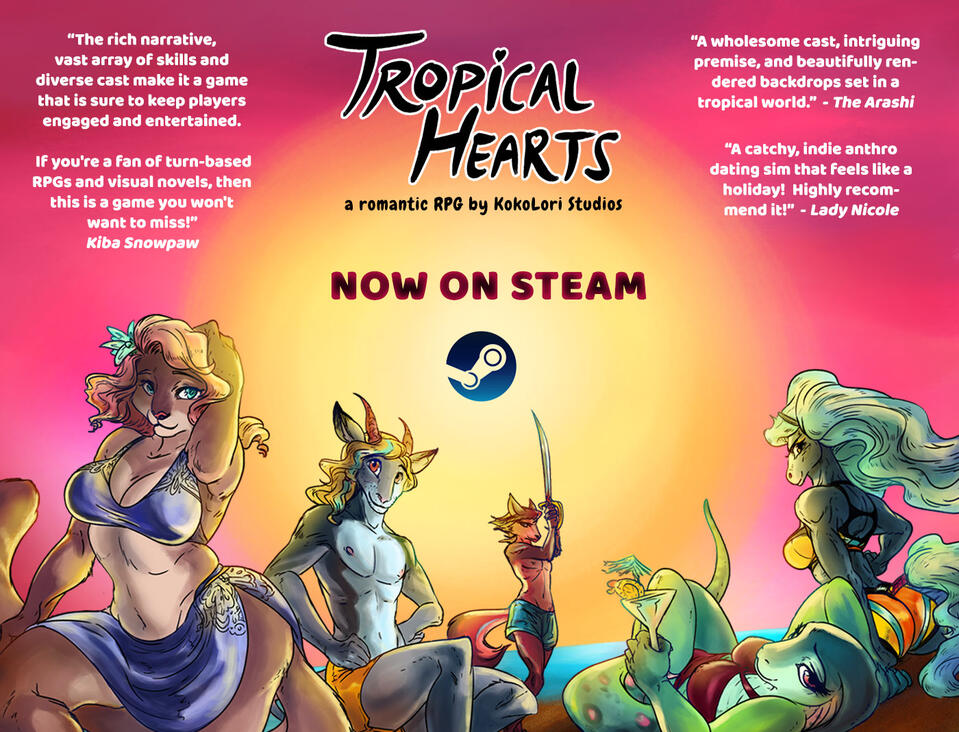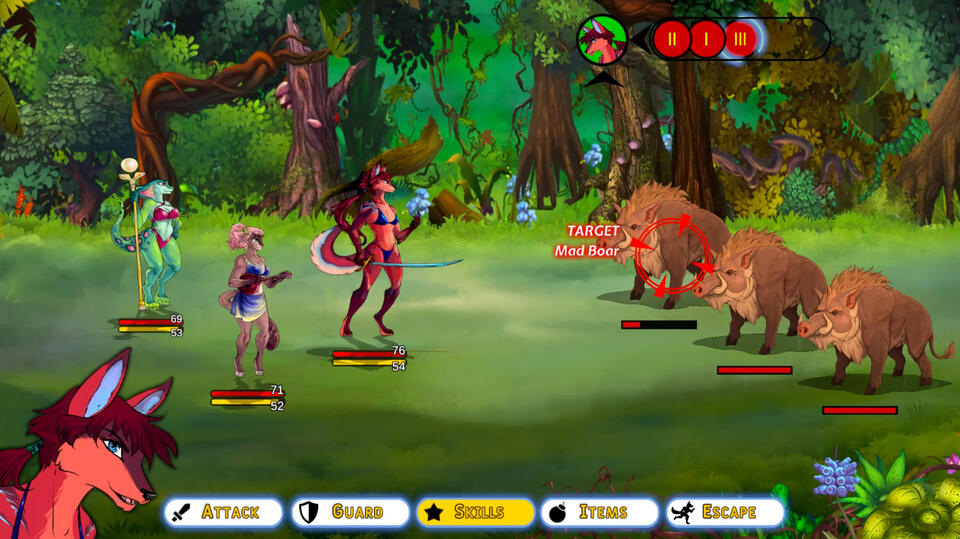 Play as Alex Alvarez, an adventurous and fun-loving maned wolf with mild authority issues. Alex's gender is up to you - and so are your dating choices! Hang out with your friends or meet mysterious strangers who each have their own story to tell. Relax at the beach, chill out in Paradise Town or shake that sweet bum to the latest dance floor hits!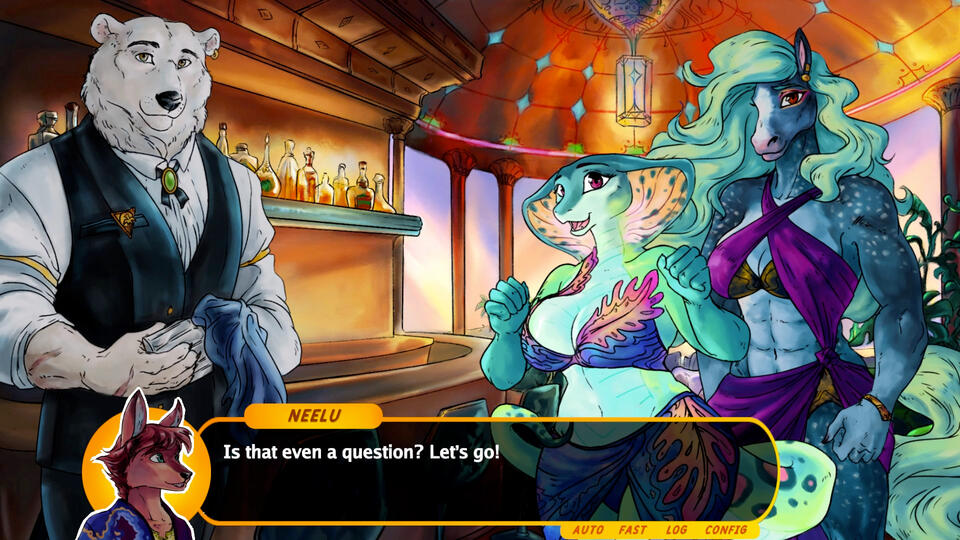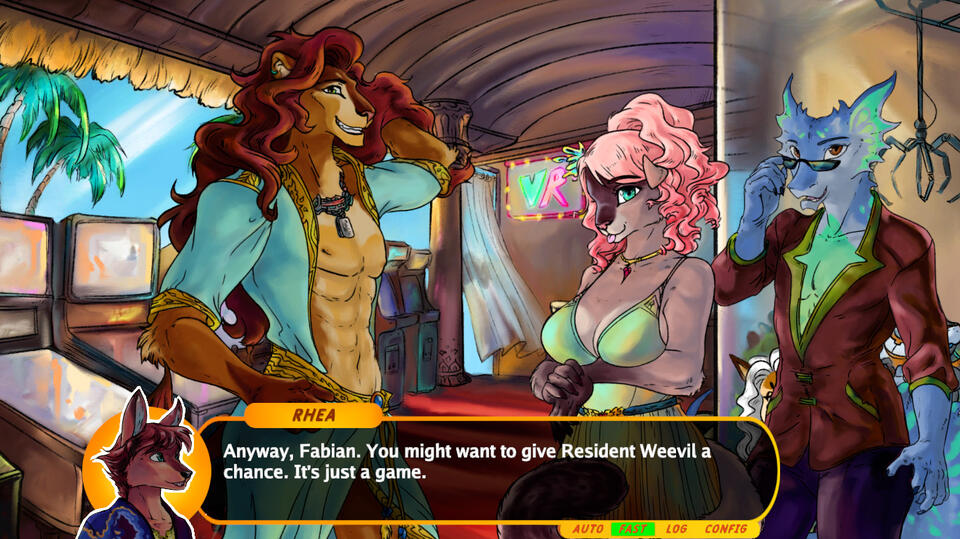 Defend your tropical paradise side by side with your friends! Choose from a vast array of Skills to target your enemy's weaknesses and get your powers boosted by your friends.Collect precious materials to upgrade your Weapons, craft new Items to aid you in your quest, and try out various experimental cocktails lovingly prepared by Marc, the veteran bartender of Hotel Tropicabana!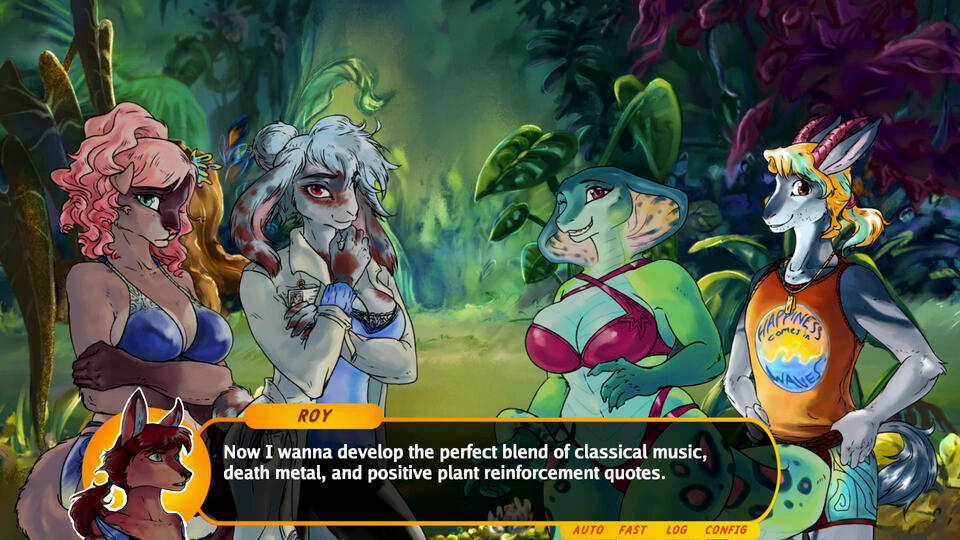 Unravel the secrets of the Paradise Island Archipelago - there's 3 massive Battle islands to discover!A mysterious voice calls to you in your dreams as you delve deeper and deeper into the mystery behind the otherworldly attackers. Why are these creatures here, and what do they want? It's up to you to find out!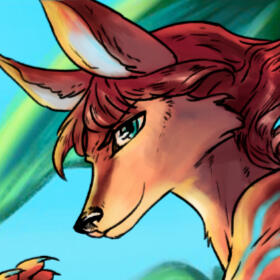 Alex Alvarez
Age: 21
Occupation: Engineering student
Element: Fire
Primary Weapon: Sword
Alex (lady or gent - you choose!) is the free-spirited, easygoing protagonist of Tropical Hearts. They love the outdoors and exploring the world, preferably from the seat of their beloved custom bike. Generally laidback and a bit of a drifter, they quickly discover their flair for wielding their personal brand of fire magic and facing the Island's hostile invaders. Since setting foot on Paradise Island, Alex keeps having strange dreams - someone is reaching out to them…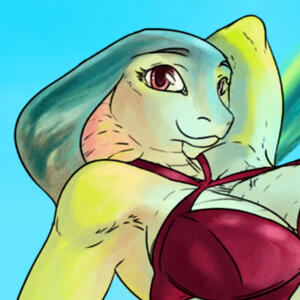 Neelu Solanki
Age: 20
Occupation: Florist in training
Element: Light
Primary Weapon: Staff
Neelu's taste for adventure and mischief is pretty much unrivaled. When something catches this playful snake's attention, she dives right into it. Currently, she's studying to be a florist while working at a local garden shop where she spends most of her hard earned cash on more plants. In her free time, Neelu loves shaking her hips to whatever music she's currently addicted to. The past years haven't been easy on her, and now Neelu just wants to party hard and finally enjoy her life to the fullest.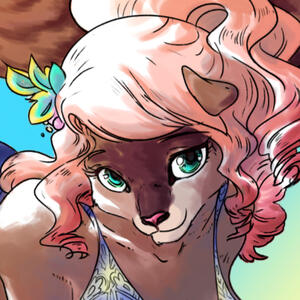 Rhiannon 'Rhea' Morrison
Age: 20
Occupation: Medicine student &
part time librarian
Elements: Wind & Sound
Primary Weapon: Strumming Instrument
Rhea usually prefers quiet surroundings to crowded beaches and flashy night clubs. Despite her gentle looks, she's got a sharp mind and strong will. Prone to overthinking every little thing, she's finally challenging herself to deal with her anxiety and simply experience the moment. As the daughter of an ambitious family with high expectations for their future heir, Rhea has to make up her mind whether to give in to family pressure or take the leap and forge her own path in life.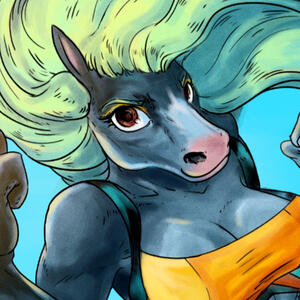 Tyra Kane
Age: 22
Occupation: Freelance beautician
Elements: Lightning
Primary Weapon: Gloves
Need a listening ear or a shoulder to cry on? Preferably combined with a makeover? Tyra's your girl. Tyra delicately balances her job as a beautician with pursuing a career as a Mixed Martial Artist. On top of that, she runs her own fitness HoofTube channel where she shamelessly indulges her love for cheesy 90s Eurodance. Although she means well, she can be quite tough on her friends and has a hard time opening up.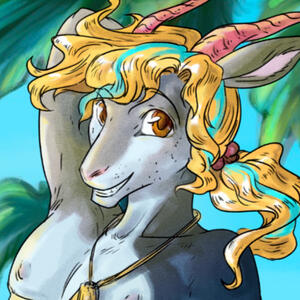 Roy Millers
Age: 21
Occupation: IT student
Element: Water
Primary Weapon: Spear
The well-meaning softie of the group, Roy's got a heart of gold, a keen sense of humor and a knack for knowing just what his friends need. Most of the time he hides his lack of self-confidence by joking around and putting others first. After an ugly experience with yet another unpaid internship, Roy decides to take a break from the office floor and reconnect with his first love: surfing. But he can't live off his parents' money forever, and anxiety about his lack of direction is keeping him up at night. He's been eager to go on a vacation with his friends for a long time, and he hopes his days in the sun will help him make up his mind about the future.